Kit deteksi PCR virus pseudorabies (gB)
Rincian produk
Label Produk
Kit Deteksi PCR Pseudorabies virus (gB) (Lyophilized)
48 tes / kit, 50 tes / kit
Penggunaan yang dimaksudkan

Kit ini menggunakan metode PCR fluoresen real-time untuk mendeteksi RNA virus Pseudorabies (gen gB) (PRV) pada bahan penyakit jaringan seperti amandel, kelenjar getah bening dan limpa serta bahan penyakit cair seperti vaksin dan darah babi. Sangat cocok untuk deteksi, diagnosis dan investigasi epidemiologi virus Pseudorabies (gen gB). Kit ini adalah SISTEM PCR SEMUA SIAP (Lyophilized), yang berisi enzim amplifikasi DNA, buffer reaksi, primer khusus dan probe yang diperlukan untuk deteksi RT-PCR fluoresen.
Komponen
Paket
spesifikasi
Bahan

Campuran PRV PCR

1 × botol (bubuk Lyophilized)

 

50Tes

dNTPs, MgCl2, Primer

, Probe, DNA polimerase Taq

6 × 0,2ml 8 tabung strip baik

(Lyophilized)

48Tes

Kontrol positif

1 * tabung 0,2ml (lyophilized)

 

10Tes

Plasmid atau Pseudovirus yang mengandung fragmen spesifik PRV (gB)

Larutan pelarut

1,5 ml Cryotube

500uL

/

Kontrol Negatif

1,5 ml Cryotube

200uL

0,9% NaCl
Penyimpanan & Kehidupan Shelf

(1) Kit dapat diangkut pada suhu kamar.
(2) Umur simpan adalah 18 bulan pada -20 ℃ dan 12 bulan pada 2 ℃ ~ 30 ℃.
(3) Lihat label pada kit untuk tanggal produksi dan tanggal kedaluwarsa.
(4) Reagen versi bubuk terliofilisasi harus disimpan pada -20 ℃ setelah pembubaran dan pembekuan berulang-ulang harus kurang dari 4 kali.
GENECHECKER UF-150, UF-300 instrumen fluoresensi PCR real-time.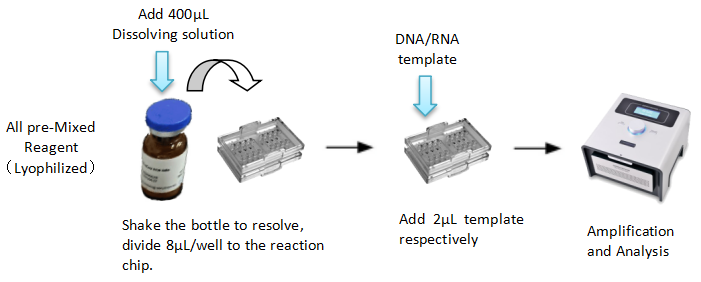 b) 8 versi tabung strip baik: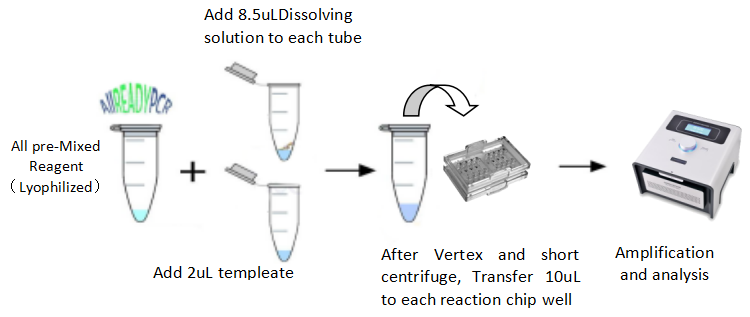 Pengaturan yang direkomendasikan
Langkah

Siklus

Suhu (℃)

Waktu

Saluran fluoresensi

1

1

95

2 menit

/

2

40

95

5 dtk

/

60

10 dtk

Kumpulkan fluoresensi FAM
* Catatan: Sinyal saluran fluoresensi FAM akan dikumpulkan pada 60℃.
Saluran

Interpretasi hasil

Saluran FAM

Ct≤35

PRV (gB) Positif

Undet

PRV (gB) Negatif

35<Ct≤40

Suspicious resut, retest*
*If the retest result of FAM channel has a Ct value ≤40 and shows typical "S" shape amplification curve, the result is interpreted as positive, otherwise it is negative.
---
---